KARMUEL YOUNG
Today we deepen our knowledge of an innovative, modern and essential brand thanks to an interview with Karmuel, famous designer of the eponymous brand.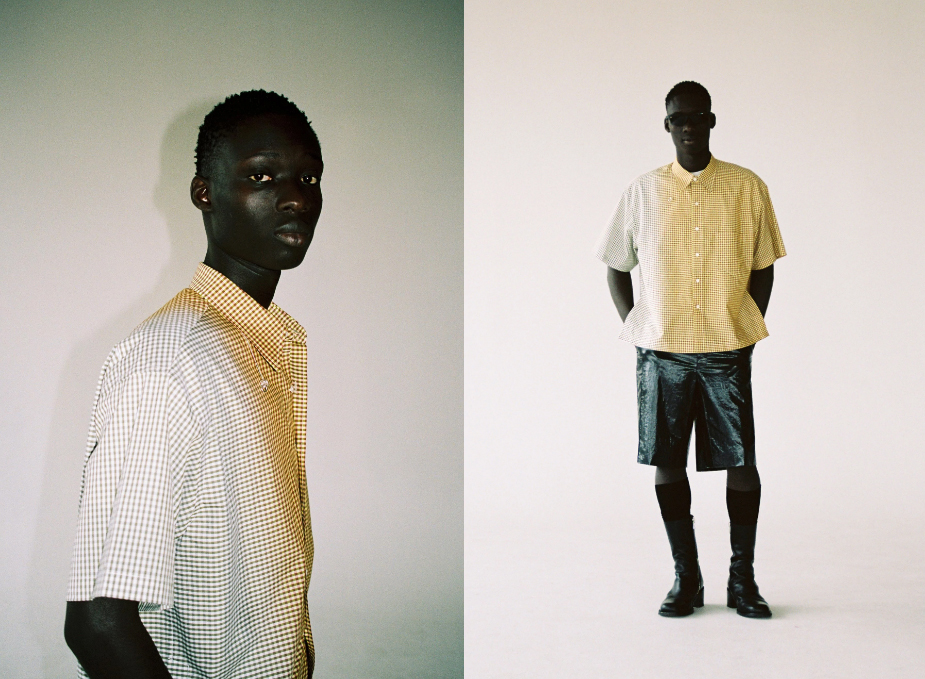 Tell us a little about yourself. Who are you and what do you do?
Hi, I am Karmuel Young, a menswear designer. After graduating, I worked as an assistant designer for Damir Doma in Paris and Ute Ploier in Vienna. After moving to Hong Kong, the designer worked in brand creative service for Lanecrawford and menswear design in I.T. I established his own label in 2014, starting with mens shoe accessories. the designer launched a menswear collection in 2019.  Awarded "Creative Call Out 2019" by Lanecrawford. Awarded the "10 Asian Fashion Designer to Watch" in 2021. My design is about modern essential menswear wardrobe.
Your claim captured our attention: Transform regular details into unconventional possibilities with innovative equations. Do you feel like telling us more? What is your philosophy behind the claim? What is your mission?
"A New Man in Town" is our brand philosophy. We aimed to create a modern essential menswear wardrobe. We aspire to transform regular and easily forgotten details into unconventional possibilities with innovative equations. We always study the needs of men, what their daily habits and lifestyle is, etc. For example, we experimented and  constructed a multi-functional pocketing with minimal appearance. Apart from detailing, there must be a modern touch in every single piece via fabrication, cutting, fitting, finishing or craftsmanship, etc. we always offer an alternative execution to regular fashion, answering operational and aesthetic needs.
How have XYZ coordinates inspired you? We mean you are able to translate physics, maths and technology and engineering into an unique and new concept in fashion and design to identify a garment.
 Inspired by the Cartesian XYZ-coordinate system, we would like to apply a mathematical twist on timeless essentials. The Cartesian-inspired XY and YZ cuts of tops and pants spotlight various facets for a bold, empowering silhouette, inviting us to explore the multi-dimensional world.
In mathematics, physics, and engineering, the first axis is usually defined or depicted as horizontal (X) and oriented to the right, and the second axis is vertical (Y) and oriented upwards. The third axis is depth (Z) and oriented inward. XY-plane is a compressed hyperplane consisting of axes oriented to the right and upwards while YZ-plane enters the third dimension with its newly-developed cut and increases the volume of the garment, fabricating a robust body shape.
Same cutting piece projects an extreme difference in looks and feels via this XYZ-mathematical twist, which aligns with our theme "Same but the same".
We like that your collection includes a complex variety of very different fabrics which implies a deep knowledge of fabrics and compositions that have to convey your message and ideas inspiring your collection. We guess it is a very difficult process. Would you tell us more about your fabrics research? How do you like to be daring with different materials?
Fabrication is one of the key elements that our label focuses on. We spent more than 30% of development time in sourcing a unique, modern and well-crafted fabric internationally. Well-constructed, refined, compressed and crispy fabrication always can build a constructed form. While, unique and bold colour-way, pattern and innovative finishing always can bring a modern touch to ordinary textile. We are always fascinated by these type of fabric.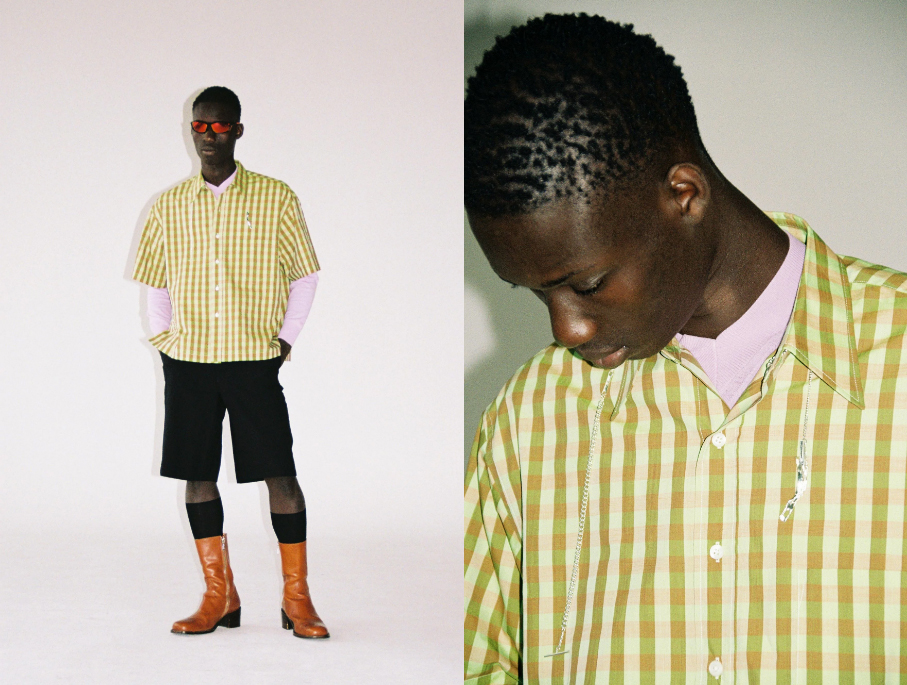 Reshaping Masculinity. In your opinion shape and garments design can convey the concept of femininity and masculinity? How do you think shapes will evolve in the fluid and genderless future?
Starting from Project 03, we started to simplify the muscular forms to geometric forms like Trapezium and Square. And, project by project, we newly developed different blocks for muscular looks. Recently, we started to explore gender-neutrality. We try to break a gender boundary by RE-editing a vintage t-shirt to a skirt in order to create a skirt which men don't feel hesitant to try. I believe future fashion is about an extreme sense of self. Fashion is becoming more open to self-expression to let the audience decide what they buy and want to wear. The young generation has put less attention on traditional gender roles and looks but more tends on integrity and authenticity.
If Karmuel Young were a city, what city would you be? Which city would describe your brands vibes the best?
I believe KY city is about peace, freedom to express and place for redefined modern fashion, with quality, and options. The KY citizens are all open minded, seek alternative execution to regular fashion, answering operational and aesthetic needs.